Books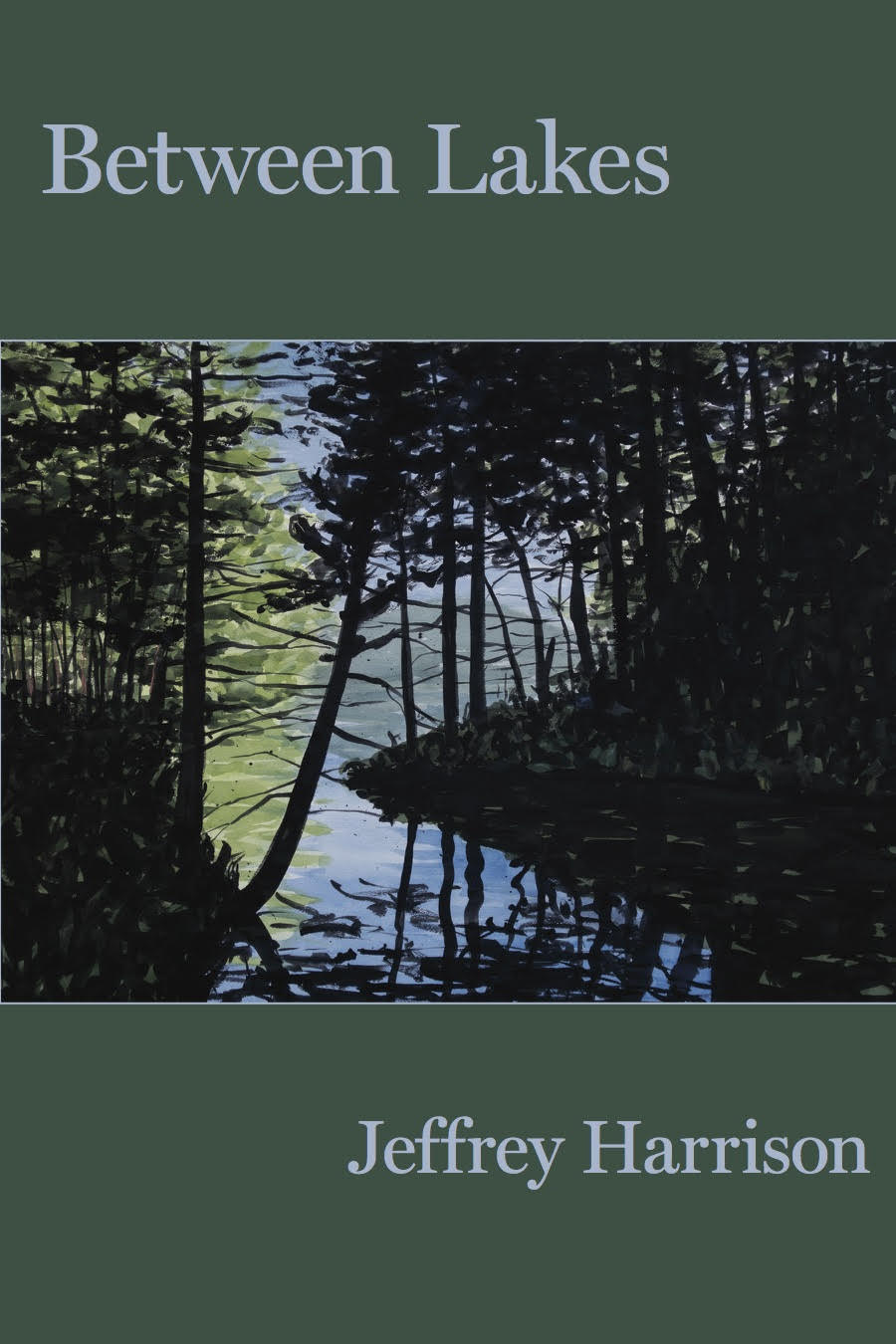 Forthcoming in September 2020.
REVIEWS
"Jeffrey Harrison's deceptive, beautifully made, uncanny new poems have a calm surface and a roiling undertow. How quietly and obsessively he probes and captures those singular moments—fragile, vanishing, too blue to last—that deepen into the unknown. That's why I consider him a true heir to Elizabeth Bishop, his favorite poet."
— Edward Hirsch
"How refreshing to read whole poems about a whole life in which true dark is illuminated. Narrative is too easy a word for what Harrison does: he's a poet who follows through, who allows the arc of an experience to find its own landing point. The writing has that quality of being at one with the experience; no pushy hype or muscle-show, just the lean moment dealt with and, by implication, enlarged."
— Stanley Plumly
"In his sixth book, Harrison's eye—always ready to gift the world to readers—only becomes keener, seeing more within more, revealing more within a body of wit and want. And this particular collection has the magic elasticity to show the wide elliptical orbit of a lifetime's relationship between growing son and aging father."
— Jessica Greenbaum
---
REVIEWS
"Jeffrey Harrison's new book reveals his deep commitment to the necessity of remembering. Into Daylight becomes a record of intimacy forged and sustained over decades with family, a few friends, and abiding literary influences, as well as the constant presence of nature, to which he returns again and again for restoration, affirmation, and wisdom, sharing these discoveries with his reader who steps with him into the light."
— Jacqueline Kolosov, The Georgia Review
"More than anything, Harrison likes to write clearly and directly— or, rather, with apparent clarity and directness. He strips the lyric voice of flourish and ornament and allows it to simply speak, which is not the same thing as speaking simply…. This book is full of quiet triumphs."
—Eric McHenry, Columbia magazine
Full review in Columbia magazine
"The book is called Into Daylight, and the title is wonderfully right. Jeffrey Harrison brings the things he sees and experiences into the light of what they are: the look of a flower, or a rabbit that John Clare might also have seen, or the subtle blooming of a witch hazel branch, but also a death -- the remembrance of a death, the death of a brother -- and a childhood game of sliding down a banister telling its delight and foretelling of things to come. There's darkness in the light of these singularly intelligent and moving poems, written in perfectly managed lines, in a measured verse that never loses its poise. The human being speaking these lines is one whose speech is wonderfully worth knowing, quietly and vividly observant and sympathetic in judgment of things seen in the daylight of their beauty and their vulnerability."
—David Ferry, author of Bewilderment: New Poems and Translations, winner of the National Book Award
"This book gets better each time I read it. Harrison is very skillful in a way that's almost passed out of existence: only a handful of writers can do what he does in handling the line and understanding how syntax and line work together—employing the plain style with great virtuosity."
— Tom Sleigh
"Naturalness is the quality I most admire in Jeffrey Harrison's restrained and deeply affecting poetry. It's a quality achieved through great art, the eliminating of everything superfluous, easy, or artificial. What remains is utterly convincing, flawlessly right."
—Jonathan Galassi
» buy here
---
REVIEWS
"Determinedly affable, chatty and low-key even when his subjects are bleak, Harrison's fourth volume stakes almost everything on [his] winning tone. Often that gamble succeeds: viewing Manhattan on New Year's Eve, 2000, Harrison (Feeding the Fire, 2001) muses, 'I wish I could give you/ this pale blue city under the glass/ of a plane window like a snowglobe,' the sweet wish barely ruffled by the specter of 9/11. 'Fork' recalls a decadeslong revenge against a malevolent writing teacher; 'To Kenneth Koch' elegizes a great one…. These lighter subjects lead up to weighty poems about the poet's brother's suicide and his grandmother's dementia, including the moving sequence 'An Undertaking,' which narrates the day-to-day aftermath of the brother's death. These memoirlike poems have the bizarre details real grief always includes (the brother had 'Enough socks/ for several lifetimes'), along with the sadness no verbal talent can assuage."
— Publishers Weekly, © Reed Business Information, a division of Reed Elsevier Inc. (Oct. 2006).
"Like a fine playwright, Harrison brings us into his experiences so artfully that we feel their weight and their truth as ours."
— Booklist
"A scribbly abstract expressionist painting adorns Harrison's new collection, but don't judge the book by it. Harrison's poems aren't abstract; they are full of definite actions, clear thoughts, and real things. They aren't expressionist, either—never histrionic or formally eccentric. Their content comes out of Harrison's own reasonably average life, but they are never just about Harrison. He is always eager to communicate what experiences mean to him and, he hopes, to you, who could easily have had their like. Driving with a friend to see Vermeers in Washington, visiting another friend in New York who's become unemployably strange, and walking out to appreciate the world's abundance despite knowing next to nothing, it seems, about it are typical of the experiences Harrison shares. He also relives, in the sequence that makes up the second half of the book, a rarer occurrence: living on after—and, really, with—a suicide in the family. Like a fine playwright, Harrison brings us into his experiences so artfully that we feel their weight and their truth as ours."
— Ray Olson, Booklist, reviewed October 1, 2006, © American Library Association.

"While Harrison maintains his knack for parsing that 'spiritual significance' from contemporary American life, this book's ultimate success might owe more to his seemingly effortless access to both desperate sorrow and a certain joyous and musical gusto—somewhat paradoxical attitudes Harrison often convincingly achieves within the space of a few lines."
— Virginia Quarterly Review
"Harrison crafts an exquisite tension, integrating an emotionally combustive narrative with taut and elegant form. The poetry asserts itself as a defiantly creative act in the face of loss, and in that way, trauma finds reconciliation in language."
— ForeWord

"Harrison's best poems…open doors to the place in the heart where we come closest to knowing who we really are."
— The New York Times Book Review
» buy here
---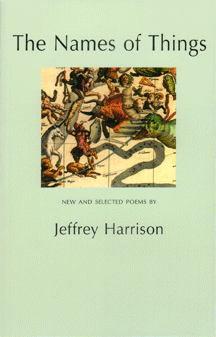 Cover illustration: from Stanislaw Lubieniecki's Theatrum Cometicum, Vol. 2, 1667. Design: Philip Hoy.
REVIEW
"as natural a poet as any writing in America today."
— Booklist
"The six new poems in this selection come from Incomplete Knowledge (2006), which appeared in the U.S. slightly before this British import. The others generously represent The Singing Underneath (1988), Signs of Arrival (1996), and Feeding the Fire (2001), and the 36 pages of poems from Signs are the purest gold here. Not all of it, though, for on the evidence of the whole book, Harrison has always been gifted at communicating the significance of his experiences and observations, both ordinary and special. In this he recalls Robert Frost, and like Frost's, his poems expand in meaning as they are read, reread, and closely considered. Like Frost, Harrison is a traveler, but whereas Frost in his poems roams close to home, Harrison jaunts far afield as well as around the neighborhood, speculatively as well as bodily (see 'Brief History of an Atlas' and the two poems adverting to Arabian explorer Alexander Kinglake). His language is chaste and precise, he is formally modest, and he is as natural a poet as any writing in America today."
— Ray Olson, Booklist, © American Library Association, November 15, 2006.
» buy here
---
REVIEWS
"The poems in Jeffrey Harrison's new collection, Feeding the Fire, chronicle our growth from the cluelessness of childhood to that slightly greater state of awareness called adult life…Harrison's best poems…open doors to the place in the heart where we come closest to knowing who we really are."
— David Kirby, The New York Times Book Review
"It's thrilling to read poems written with such pleasure and gusto."
— Philip Levine
"It's thrilling to read an entire book of poems written with such pleasure and gusto. Harrison writes with remarkable confidence about a range of ordinary things—salt, rowing a boat, discarded books, a stinking pond—and he gets more out of his subjects than seems possible. How does he do this without ever being pretentious? He's an artist."
— Philip Levine, Ploughshares
"It is rare to encounter poetry that is suffused with a calm technical assurance and, at the same time, tense with the potential to surprise convincingly. Harrison's language is exact, sinuous, and compelling, and leads…to places we may not have seen before, but know when we arrive. This is a beautiful book."
— Henry Taylor
"This is a book that can be read from start to finish with ever-heightened expectations that are never disappointed, and with sustained delight. The poems move with the fluidity of a mind's swift and graceful agility, full of darts and surprising turns, alive with leaps, sprints, and spirals. They wind through luminous galleries of the past, antechambers of memory or the obscure outskirts of recollection, always discovering astonishments."
— Anthony Hecht

"I take enormous pleasure in Jeffrey Harrison's descriptive acuity and verbal precision, his nourishing exactitudes. Here is a poet who is always arriving, travelling far and wide to see the world anew, freshening its perceptions, deepening its memories, welcoming its mysteries."
— Edward Hirsch
» buy here
---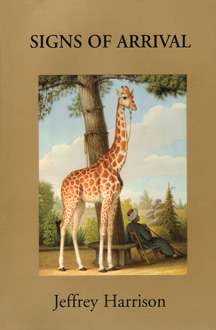 Cover illustration: Nicolas Huet, the Younger, Study of the Giraffe Given to Charles X by the Viceroy of Egypt, 1827. Design: Louis Giardini.
REVIEWS
"Signs of Arrival is a work of genius…. [It] accomplishes nothing less than transformation. We ought to herald its arrival with all the celebration that praise can offer."
— Peter Liotta, Chelsea
"the poems speak their own tough-minded joy in the created world."
— Eamon Grennan
"In their tactful mix of common sense and wonder, their openness to the 'sudden radiance' that can charge an ordinary moment, the poems of Jeffrey Harrison speak their own tough-minded joy in the created world. Pitched between plainness and a buoyant and unshowy lyricism, his language coaxes us to see 'the world afresh, for what it truly is,' whether close to home or in some exotic region of the earth. This is a poet who hears, as the title of his first volume proclaimed, 'the singing underneath.' In these new poems, subterranean song is enriched by a spiritual undercurrent that turns simple response into meditation, itself a sign that imagination has unassumingly, but truly, arrived."
— Eamon Grennan
"Harrison…writes so musically that ordinary occurrences take on the tones and luster of extraordinary art."
— Booklist

"In Harrison's work, the commonplace, the incidental, the exotic, and the miraculous all present themselves as the occasion for…unflinching meditation and the knotting of lyric intensity."
— Partisan Review
"Harrison's second collection displays a mastery of language that is exact and graceful. Observing the natural world, whether in his own backyard or halfway around the globe, Harrison infuses ordinary images (a mayfly on the surface of a lake; a paddle hidden above the front door of a cottage) with significance. The foreign and the familiar embrace in 'Household Spirits' when a trip to Thailand conjures a memory of a martin house from childhood and its 'flighty utopians, the spirits of that farmhouse/ gathering overhead in buoyant swarms,/ water in their voices, sky on their wings.' With buoyant observations of fragile wonders and in a singular, acute and fluent voice, Harrison also announces his own arrival."
— Publishers Weekly, © 1996 Reed Business Information, Inc.
"…an engaging sense of wonder graces Harrison's second book of poems. For him, 'there is always something calling you back,' not merely to childhood but to an Emersonian merging of human spirit with the 'purest form' of nature. While anecdotal poems narrating travels to Asia and elsewhere on 'the lonely planet' are absorbed in the exotic, Harrison returns with relief to a careful exploration of ancestral history and memory that, with a disarming lack of ego, he offers as a 'talisman' of life-enhancing ritual. Final poems about 'signs of arrival' (his wife's pregnancy and the birth of a son) give these bright, austere poems human softness and simplicity. Harrison's heartfelt achievement is the courage to embrace 'angelic visitations.' If Shakers wanted to 'make a chair an angel would want to sit on,' Harrison would like to write a poem, one suspects, that an angel would read."
— Frank Allen, Library Journal, © 1996 Reed Business Information, Inc.
» buy here
---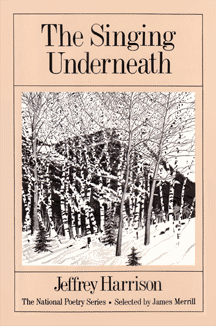 Jacket art: Neil Welliver, Birches,1983, color woodcut, courtesty of Brooke Alexander, New York. Design: Earl Tidwell
From the Judge of the Contest:
"There is no one else for whose poems—their tone and wording and overall approach to things—I feel greater sympathy and admiration."
— James Merrill
REVIEWS
"The Singing Underneath is a remarkable first book…. This is not a collection of pieces or parts or wounded connections. It is a book with the resonance of closure. Nearly every poem finds its own whole, intricate world, its own whole feeling. The interaction of nature and narrative is straightforward, discovered, deeply intelligent; it is how the imagination loves to work—in stories, in settings, in the muddy detail of landscape. The heart of the poems, as the title suggests, is understated, but near, in the first moment of experience, and so the more poignant."
— Stanley Plumly
"The Singing Underneath is a remarkable and refreshing first book of poems—as though the landscapes of Fairfield Porter, the quiet wisdom of Elizabeth Bishop, and the indomitable good humor of Guillaume Apollinaire had all found their way inside one unspoiled imagination. This is not a young poet trying 'to find a voice,' this is a poet who—in the rarest sense—was born with one."
— Sherod Santos
"His poems are concrete, vivid… whether he is recollecting his Ohio childhood or a more recent vacation in the Adirondacks, or describing a scallop, a foxglove or 'Bathtubs, Three Varieties.' His observations and draughtsmanship are accurate and acute."
— Publishers Weekly, © 1988 Reed Business Information, Inc.

"Like James Wright, Harrison articulates a vision of nature that is both celebratory and dark. He rejects 'wisdom, faith, knowledge' for a 'sense of things as they are.' But the world he observes is far from ordinary: 'just beneath the world we see,/ there is a silent singing that breaks out/ at moments, in flickering points of light.' Never far from the beauty of the natural world, however, are 'dark presences [that] seem—now that I have become/ aware of them, to be aware of me.' Harrison's metaphorical lyrics are infused with this ambiguity, and lead to moments of self-discovery: 'our mouths twisting/until we realize that we, after all,/ are secretly disturbed about our lives.' "
— Library Journal, © 1988 Reed Business Information, Inc.
» buy here
---
Jeffrey Harrison is available to give readings, interviews, or teach workshops; contact by email: jeffrey.harrison@comcast.net