News & Events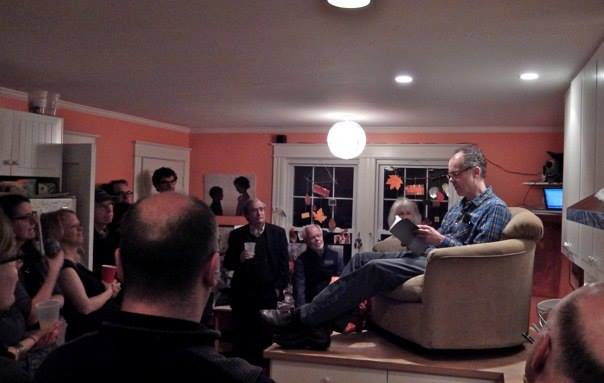 Jeffrey Harrison reading from the kitchen counter at the novelist Lewis Robinson's house.
Events
2017:
Feb. 3, 7:30 pm
Chapter and Verse With Susan Donnelly and Jennifer Jean
12 South Street Jamaica Plain jamaicapondpoets.com
2016:
April 9, 10:30 am
With Alan Feldman
Morse Institute Library
14 East Central Street
Natick, MA
morseinstitute.org
April 11-15
Georgia Poetry Circuit, South

April 29, 7:30 pm
Arts Café Mystic
The Mystic Arts Center
9 Water Street
Mystic, CT
theartscafemystic.org
Wednesday, May 18, 6:30 pm
With Joyce Peseroff
Cambridge Public Library
449 Broadway
Cambridge, MA
cambridgema.gov/cpl
Friday, October 21, 2016, 7:30 pm
Westerly Arts Café
The Artists' Cooperative Gallery of Westerly
7 Canal Street
Westerly, RI
westerlyarts.com/events.html
News
The Massachusetts Center for the Book has announced that Jeffrey Harrison's Into Daylight has been chosen as one of six "Must Read" books in poetry for 2015.
In April, Harrison spent two days visiting the Westminster School as the 15th Westminster Poet. Read more.
Jeffrey Harrison was awarded a fellowship from the Bogliasco Foundation for the fall of 2014 and spent a month at the Luguria Study Center in Bogliasco, Italy.
Incomplete Knowledge made the BookSense top ten list for 2007 as well as the Poetry Foundation's best seller list and was one of two runners-up for the 2008 Poets' Prize, which was won by A. E. Stallings for Hapax. All three of the finalists got very strong support, out of a field of more than forty nominated books.
Jeffrey Harrison's poem "Afterword" appears in Best American Poetry 2016.
---
Jeffrey Harrison is available to give readings, interviews, visit schools, or teach workshops; contact by email: jeffrey.harrison@comcast.net
Jeffrey Harrison, on left, signing books at the launch
of Incomplete Knowledge, Nov. 11, 2006. Reading at Trinity School in 2009.
Photo: Bill Zavatsky