News & Events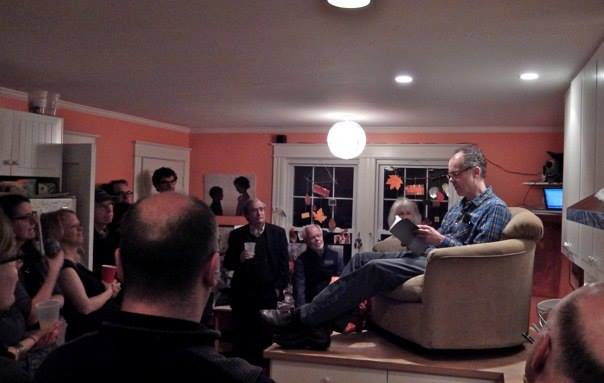 Jeffrey Harrison reading from the kitchen counter at the novelist Lewis Robinson's house.
News
Jeffrey Harrison's next book of poetry will be published by Four Way Books in the fall of 2020.
Jeffrey Harrison's poem "Higher Education," first published in The Yale Review, is featured in Best American Poetry 2017.
Jeffrey Harrison's poem "Afterword" appears in Best American Poetry 2016.
The Massachusetts Center for the Book chose Jeffrey Harrison's Into Daylight as one of six "Must Read" poetry books for 2015.
In April 2015, Harrison spent two days visiting the Westminster School as the 15th Westminster Poet. Read more.
Jeffrey Harrison was awarded a fellowship from the Bogliasco Foundation for the fall of 2014 and spent a month at the Luguria Study Center in Bogliasco, Italy.
Incomplete Knowledge made the BookSense top ten list for 2007 as well as the Poetry Foundation's best seller list and was one of two runners-up for the 2008 Poets' Prize.
Events
2018:
May 5, 2:00 pm
Massachusetts Poetry Festival
Headline Reading, with Duy Doan and Erika Meitner
Morse Auditorium
Peabody Essex Museum
161 Essex Street
Salem, MA
2017:
July 2, 3:00 pm
New England Poetry Club Summer Poetry Series with Christina Davis
Longfellow House
105 Brattle Street
Cambridge, MA
www.nps.gov/long
September 28, 7:00 pm
Best American Poetry 2017 Launch
The New School
66 West 12th Street
New York, NY
November 3, 7:30 pm
With Robin Becker
Hancock Town Library
25 Main Street
Hancock, NH
hancocktownlibrary.blogspot.com
---
Jeffrey Harrison is available to give readings, interviews, visit schools, or teach workshops; contact by email: jeffrey.harrison@comcast.net
Jeffrey Harrison, on left, signing books at the launch
of Incomplete Knowledge, Nov. 11, 2006. Reading at Trinity School in 2009.
Photo: Bill Zavatsky